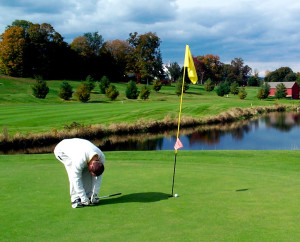 We've written before about why people quit the game of golf – from the obvious time and money to suffering an injury to simply hating the game, there are plenty of reasons.
But now, a study conducted by the National Golf Foundation (NGF) has put some primary research behind it. Atop the list were the aforementioned time and money. But for one particular group of golfers (those NGF identifies as "never-committed"), "frustration" ranks near the top.
According to NGF, "never-committed" golfers are people who play golf, but either don't consider themselves golfers or typically have more fun doing other recreational activities. These folks also comprise around two-thirds of the 21 million golfers who quit the game within the last two years. So the question then becomes; Why aren't these people having any fun playing golf?
Well, frustration seems to be one big answer. It's interesting that research would reveal "frustration" as a key reason for quitting golf. The GolfStinks slogan ("taking the frustration out of golf") implies that most golfers are frustrated with their game. But now, it seems, we have empirical evidence to support this notion!
And NGF's analysis makes a good point:
"Improving retention will help golf's participation problem tremendously.  Making golfers feel more comfortable on the course is paramount to retention, as is helping beginners feel good enough about their skills to lessen frustrations and eliminate embarrassment.  All of this will contribute to making golf more FUN, and build a larger base of committed players."
So how do we do this? Do we, as some have proposed, change the rules to make the game easier? Use illegal equipment to hit balls straighter and farther? Maybe we triple the size of the hole!
Or perhaps we don't change anything with golf – perhaps we just change our attitudes instead? Instead of the bottom line always being about what you write down on your scorecard, maybe we can take a different approach to teaching golf? Sure, teach them the fundamentals of the grip and swing and the basic rules and etiquette. But we need to also keep in mind that the main point is to not create the next tour member (raw talent will always dictate that). But rather, the focus should be on providing someone with an activity they can enjoy for the rest of their lives.
With this in mind, we should focus our teaching efforts on the other aspects of the game – like camaraderie and being out in nature. And let's not overlook the importance of challenging themselves to play better (rather than just competing against their golf buddies).
We need to show new golfers that this game is so much more than just how good you can play. And if we can be successful in doing that, we can also be successful in creating new, lifetime golfers…with less frustration.