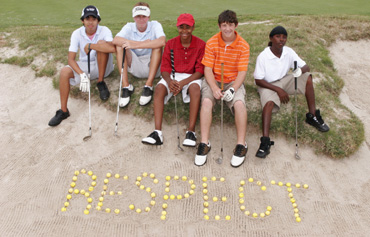 Over the past few years, I've mentioned a few times that I played golf for my high school team. Some of you may have taken that information to mean I am a good golfer…or even a decent one. Well, I'm here to set the record straight.
Yes, I did play on my high school golf team my junior and senior years – but I was by no means a good golfer. For a 9-hole round (which most of our tournaments were), our top 3 players would typically shoot between 36 (par) and 43. I, on the other hand, would typically shoot between 46 and 53.
There were about ten of us on the team and the top 5 would start. Of those five starters, only the top 3 scores would count (which typically came from our best 3 players). Meanwhile, I would start about half the time, but only once in the two seasons did my score ever "count." And that was because one of our top 3 got disqualified and I was the next-best score (with a 48 for 9-holes). My name was in the box score in the paper the next day as one of the top 3 for the tournament (and I'm glad they didn't print my actual score)!
So now that it's clear I'm just an average golfer, playing on my high school team still did teach me a few things: I had to learn all the rules (which is a daunting task). I learned to pace-out the distance to the nearest marker so I knew how far I was to the pin (heck, just learning to always know your distance before your shot was a plus for me)! And I guess I learned how to play under pressure too.
But perhaps most importantly, I learned how to play this game with respect. Respect for the course; your fellow players; and the game itself.
I guess the respect lesson really dawned on me during one tournament in particular. We were playing our heated rivals and I was paired up with the best player on our team. We were putting-out on a hole where there was a lengthy walk to the next tee. I had finished the hole and was waiting on the fringe with the flag stick, while my teammate had about a 1-footer left for par. Our two competitors decided to start their walk to the next hole so they didn't see what happened next: The best player on our team missed a 1-foot putt.
I would like to tell you he did the right thing, but he didn't. He was a rather pompous kid and promptly said, "You didn't see that." and proceeded to write down par on his card. Sadly, I didn't do the right thing either. Instead of turning him in, I kept my mouth shut.
Though we won that day by a decent margin, I remember realizing for the first time that golf is truly a game of honor. Sure, you could, if you so inclined, cheat almost anywhere on the course – be it using the old toe iron or foot wedge, or pretending you sunk a putt when you really didn't. But where is the honor in that?
I think the most important lesson I learned playing high school golf was to just accept the golfer you are and enjoy your round. Don't try and sugar coat your game; don't try to make your score appear better than it actually is; don't try to BS your way through 18-holes. Just play and have fun.
It was this ethos that eventually led me to co-found GolfStinks and took me to where I am today (at least mentally) with the game. Learning that lesson back in high school as a teenager has given me the gift of not taking my game too seriously as an adult. And as a result, I don't BS people out on the course and I certainly don't BS myself…I stink at golf, yet I still love it.