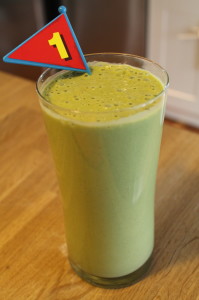 So about eight months ago, I realized I needed a change for breakfast. I was sick of cereal and breakfast bars and eggs took too long to make during the work week.  I needed something I could whip-together fairly quickly, yet still have it be healthy at the same time. Perhaps most importantly, it needed to keep me satisfied (unlike a piece of fruit) until lunch (or about 4 hours).
I've always enjoyed smoothies, so I set out to create the perfect breakfast concoction. I initially used the following ingredients: Milk; Peanut Butter; Bananas; and Honey. After fiddling with the measurements of the recipe for a few weeks, I was able to perfect the consistency – not watery, but not too thick either – it was just right!
Having achieved what I thought (at the time) was the perfect smoothie, I began realizing I could probably make it better – using higher-quality, more nutritious ingredients (like going organic; removing the dairy; and adding greens)! That led to the breakfast drink you see pictured above. It is (as of this writing) quite simply the best breakfast I've ever made – and I look forward to it every morning!
Not only have I not grown tired of this smoothie (not even after months of drinking one on 5+ days a week), but it also satisfies me till lunch – in fact, I found I was able to push-on an extra hour or so after lunch to boot! As a result, this smoothie eventually replaced my bacon, egg and cheese pre-golf sandwich. I must say, not only does its color remind me of the course (yes, this smoothie is light green), but it keeps my hunger in check for all 18-holes!
So at this point, I figured why keep this little breakfast gem all to myself? It's time to share it with the rest of you – that being said; I give you…
The GolfStinks Organic Dairy-Free Power Smoothie
6 ice cubes (standard ice-tray size)
1 cup of unsweetened organic almond milk
1/2 cup of no salt added organic smooth peanut butter
2 cups of fresh organic spinach. Place spinach loosely in a liquid measuring cup until it fills up to the 2-cup line (don't worry, you won't taste this ingredient – it's added for its nutritional value and the cool golf-like color it provides)!
2 organic bananas (about 6-8 inches in length each)
1 to 2 tablespoons (depending on your sweet tooth) of organic raw blue agave nectar (agave nectar is low-glycemic and a great alternative to honey)
Rinse spinach thoroughly in cold water. Place all ingredients in a blender and blend using the "liquify" or "smoothie" setting for about 15 to 20 seconds (or until all ingredients are mixed completely).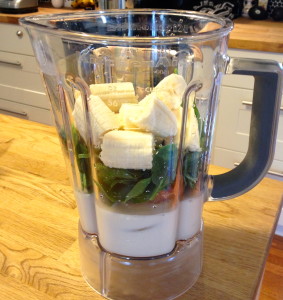 Pour and enjoy. Makes about 32 ounces. Feel free to alter the ingredients as you see fit and let me know your results in the comments!