There's a fine line between enjoying an adult beverage whilst playing a round of golf…and getting completely tanked; driving your cart into the pond on 15; and getting banned for life from that particular establishment.
There's nothing worse than getting paired up with (or playing behind) a couple of sauced golfers. Drinking and golf can go hand-in-hand, but there's an art to it. The trick is to drink enough to relax and enjoy yourself, but not so much that you can't remember your round.
If you're one of those people (and trust me, they exist) who have to get drunk when they play golf, perhaps you should sell your clubs on eBay and use the money to buy a keg. Seriously, for those people, on some level of their subconscious, golf is meaningless. So when they do play, they have to drink to make it fun.
But, for those of us who really love to golf, drinking in moderation can be a nice way to get more enjoyment out of your round. For example, we were exchanging tweets with @GolfMonger last week about how his foursome doesn't have very good cart golf etiquette: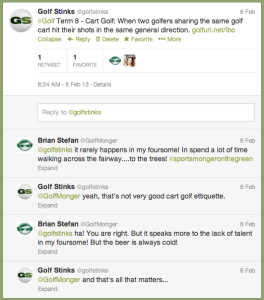 "But the beer is always cold." I love that line. I mean, you could be having the worst round of your life, but if the cooler you strapped to the cart back in the parking lot is still dispensing ice-cold brew on the 18th, then all is right in the world. Why?
We need to think of golf in terms of "a lot of different enjoyments in life coming together for one experience." Let's combine the pleasures of going on a walk in the woods; with the camaraderie you feel amongst good friends; along with the competitiveness of playing sports – this is what golf is.
If your group of friends also happens to enjoy a few beers while being in each other's company, then tossing that into the mix makes all the sense in the world. And this is a very important lesson to learn about golf: Your score is not the point…having fun is. You don't have to be a good golfer to love golf – you just have to enjoy playing golf.
Just don't get plastered – after all, there's an art to drinking on the golf course.