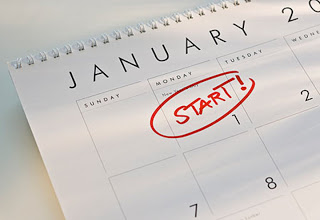 For the past two years I've gone against my better judgement and made some golf related New Year's resolutions.  I say against my better judgement because I already knew there was no way I was going to follow through.  I never do.

But each time, my resolution was fairly simple and very attainable.  All I resolved to do was play golf more often…that's it!  But each time, it simply didn't work out.  As usual, things just get in the way.  So this time I've decided that I'm going to try something not really golf related.  But at the same time, it somewhat is.  I'm going to resolve to take better care of myself.  

See, especially over the past several months, I've noticed some changes in my physical condition, and not for the better.  It became pretty noticeable during and toward the end of the golf season.  I noticed toward the end of the round I was more tired than I would normally be.  And it wasn't just golf – it was in other routine activities as well.  I just felt a little more worn out than previously.  Like it was becoming more of a struggle toward the end.

So now maybe it's time to go back on some things I once said I would never use as a New Year's resolution.  I probably still won't join a gym.  But I am going to have to seriously start working on my weight and obviously watching what I eat.  And that hurts because I love to eat!

But, besides the obvious health benefits, I think getting myself into better physical condition will also benefit my golf game.  Again, I'm not so concerned about my final score although I'd like to do better.  I'm more concerned with feeling better at the end of my round and not dragging my ass from holes fourteen on.  And if I feel better once I hit the 19th hole, I'll care even less about the three-digit score at the bottom of my card.

Swing 'til you're happy!