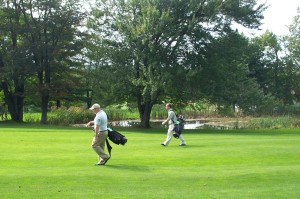 I've been doing allot of walking lately, which was brought on by my car's transmission deciding to conk-out after 140,000 miles. While we still have my wife's car in the family, she's at work during the day (I work from home) so my legs are my primary mode of transportation from 9AM to 5PM, M-F.
So I was walking to the post office on my lunch break yesterday (about a mile) and realized there are details along that route that I had never noticed before – even though I had driven that same route many, many times.
That reminded me about why I like walking the golf course instead of riding. This past season, I rode most of the time. This was a detraction from my normal routine, in which I typically walk the course. But the main reason I kept riding this season was the fact that I wasn't laboring towards the end of my round – my feet didn't hurt and I had more energy down the home stretch (16, 17 and 18).
But the interesting thing was despite my lack of fatigue, my scores didn't really improve. And as I was walking back from the post office, I realized why. When you ride in a golf cart (or "buggy" for my friends in the UK), the time it takes to get to your ball is greatly diminished.
While golf courses like this because you ultimately play faster, it can have an adverse affect on your game. For example, while you're walking to your ball, you have time to consider your next shot: Which club you will play; where the pin location is; what the wind is doing. Of course, all of these things can be ascertained upon getting out of the cart, but with much more haste – which can lead to a wrong club selection or mis-calculation of the wind.
What's worse, sometimes your cart-mate will drop you off at your ball so they can go find their own. Now you're left with a quick decision on which club to grab. Or perhaps you went with them in the cart to play their shot first and then scooted across the fairway for your shot. Mentally, you've observed the path to a ball that was not yours and then took an irrelevant path (the cut across the fairway) to your own.
I use the term "irrelevant path" because when you walk the golf course, the path you take to your next shot is usually a direct line between your ball and the flag stick – thus mentally preparing yourself for all aspects of your next stroke. When you ride, that mental aspect has been hindered – either by the quickness it takes to reach your ball or the irrelevant path you take to get there (or both).
But improving my game isn't the only reason I like to walk: It's good exercise too. Now I know there are people that will say walking a golf course is not good exercise – in fact, my doctor is one of them. Well, my doctor should read THIS post. In short, a recent study proves that walking the golf course is indeed good exercise (time for a new doctor)!
And there's one more reason I like to walk the golf course – for that I'll relay another story from my lunchtime walks in my neighborhood. On the way back from one of my recent walks, I noticed a sign posted a few yards into the woods. It was all about a glacier kettle that was right in front of me through the trees and something that I'd never noticed before.
You see, walking allows you slow down and notice interesting things that you would never see zooming by in a car – and the same is true on the golf course. In addition to improving your game and getting exercise, you have more time on your hands to appreciate nature. After all, the great outdoors is perhaps among the most rewarding aspects of golf.