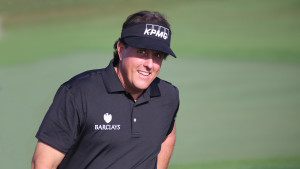 I don't know how much more clear it can possibly be. The rules say it's OK….so who's to say someone is doing wrong? Phil Mickelson used a club that is perfectly legal and within the rules. Can anyone please explain to me how this is cheating? Besides the obvious "within the rules" argument, I have numerous problems with this whole issue.
Problem #1 – Is it true a club that is over 20 years old provides an advantage over the equipment these guys are using today?! With all of the technology, research and development these club manufacturers put into their products these days, I find it incredibly amusing that a club which is practically an antique provides an advantage! If this is the case, then why the hell am I at my local golf shop checking out brand new sets of clubs, about to drop way too much bank, when the clubs I've been using for the past ten years may be better?!
Problem #2 – The fact that almost any club is banned from the tour is ridiculous enough. I mean for starters, these guys are using clubs that are custom fit to their exact specifications. And I don't mean just length and weight. They are engineered around that particular golfer. These are clubs that neither you or I will ever have the opportunity to own. "But that club provides too much spin….waaaahhh…waaaahhh…..waaaahhh." Shutup. You have a club head the size of a watermelon. The shaft is made of something currently being used on the International Space Station. You've worked with the best coaches, pros and trainers your whole life. But you're worried that someone else's club spins the ball more? Again….shutup.
Problem #3 – The focus on Lefty. If I read it correctly, Hunter Mahan, Brad Adamonis and John Daly also used these clubs. Did they cheat? Why is Scott McCarron not calling them out? Do they not matter? Is it OK if they cheat? Or is McCarron only mad that the current best player on the tour is "cheating?" Shutup.
Problem #4 – Scott McCarron. I don't know the first thing about him, but to quote Joe Pesci from My Cousin Vinny…"I'm tru wit dis guy." Really, Scott McCarron, who are you to call out Lefty for anything? Especially when what he did is within the rules! How can you call him a cheater? I'll tell you what…when you win more tournaments in your career than Phil wins in one year…then you can accuse. When you get yourself ranked higher than #92 on the money list (compared to Phil's #3 for 2009)…then you can accuse. When someone actually does something outside of the rules, thus it actually is cheating…then you can accuse. When you actually earn yourself some face-time with your play and not with your mouth…then you can accuse. Until then, shut up.
I'm willing to admit that if a club (or any piece of equipment) provides an unfair advantage, then a review of the rules must be done. But until then, if the club is allowed, then it's OK with me and should be OK with everyone else also. If it's legal, then every player has the opportunity to do the same. Whether they take advantage or not is their choice. It's like a baseball player using a maple bat. It provides an advantage because it's a harder wood and will obviously drive the ball farther and faster. It's kind of a crappy advantage, but it's within the rules. Therefore, it's not cheating.
So until the rules change and say it is not allowed, let's give it a rest.