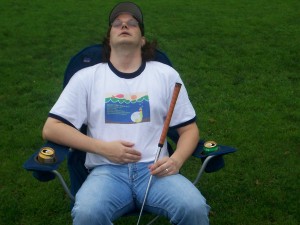 I started playing golf at the age of 14. In the ensuing 20+ years, I (like many) have developed the ability to accurately gauge golfers just by looking at them.
Now don't get me wrong – you can't always judge a book by its cover, but any of the signs below usually mean I'm in for a long (and somewhat interesting) afternoon on the links – and all this can be ascertained BEFORE you actually tee-off on the first hole. Let's take a look at some easy observations:
1. They carry a ball retriever
There it is, sticking out of the golf bag like a sore thumb. Whether it's used to fish-out their own errant shot or the errant shot of somebody else, it's going to come out of the bag and the rest of us are going to have to wait. "But I can get it, I see it right there…" This is golf, not fishing…drop a ball and move on.
2. They're bringing more than one ball up to the tee
You know these people – they will load their pockets with golf balls before stepping up to each tee, figuring they will probably take at least one (maybe two or three) Mulligans. You know, it's a good mental strategy to leave the extra ball in your bag. Oh well, hopefully they're only playing nine.
3. They're a member of the "Tennis Shoe Crowd"
They say you have to have patience to play golf. I think it's for when you are paired with a member of the Tennis Shoe Crowd. Usually sporting a wife-beater, cut-offs and tennis shoes – these people play golf once, maybe twice in a decade. If you get paired with them, I guess it's your lucky day!
4. There's beer in the cart basket
This could be trouble – especially if it's a cooler full of beer…double-trouble if there's 5 or 6 cans already empty. Don't get me wrong, I love beer. But the cart isn't a portable keg and the ensuing lawsuits stemming from a golf cart packed with alcohol are endless…
5. They've got golf gloves on both hands

Tom, our co-founder here at Golfstinks, wears two gloves constantly on the course – even to putt (see figure 1). Tom's a great guy and we've been friends for years, but I just don't get the two gloves thing – it's just strange…and typically so is anyone else you may encounter wearing two golf gloves. On a side note, Tom also carried a ball retriever in his bag until a few years ago…
6. They're playing range balls
This should be an obvious tip-off you're in for an interesting round…and was actually witnessed by me on the first-tee one time (hard not to notice the double stripes painted on the ball). Sometimes you just have to shake your head in amazement.
7. If duct tape is holding any of their club-heads on
Another obvious sign of trouble. Stinky Golfer Pete has witnessed this first-hand. In fear for his life, he literally hid behind the cart every time the person tee-off.
8. If they take more than 3 practice swings
There's no reason for this at all – that's why there's a driving range. One or two swings is common. Three swings is pushing it. More than three? Settle in – it's going to be a long day.
9. If they're bragging about how good they are
This makes me stop in my tracks – I'm almost hesitant to shake the guy's hand. We haven't even teed-off and he's already letting the rest of us know about the 78 he shot last time out. Inevitably, this person will double-bogey the first hole and then proceed to hack-up the rest of the course (reminding us the whole time by constantly saying: "I'm really off my game today").
And finally…
10. They're teaching another member of the foursome how to grip a club
If you see this (or see them teaching someone how to swing, stand, put the tee in the ground, etc.), you seriously need to reconsider how much you really want to play that day.
So the next time you're paired-up with someone, be observant and prepare mentally. And if you know of any other pre-round signs out there – help us all out by leaving a comment.