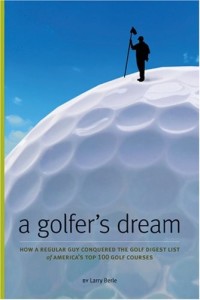 About five years ago, I set-out on a quest to play every 18-hole golf course in my state that granted tee-times to non-members (there are 66 of them); I still have one to go, but have been dragging my feet because the course is semi-private and only allows non-members to play a few rounds on weekdays.
Nevertheless, having undertaken my own quest, I was excited to read Larry Berle's 2007 book: A Golfer's Dream – How a Regular Guy Conquered The Golf Digest List of America's Top 100 Golf Courses. But now that I've read the book, not only does my own quest seem rather inconsequential, but the fact I haven't completed it seems utterly ridiculous.
Over the course of ten years, Mr. Berle networked, charmed and sweet-talked his way onto the greatest golf tracks in the country – and he had a blast the entire time. Now don't get me wrong, he never finagled his way onto any of these courses (Mr. Berle does not strike me as a man of deception) but he used every honest means possible to gain access and was usually successful…and sometimes lucky.
The web of people Larry needed to accomplish his quest was vast – and sometimes hard to follow, but it was amazing reading his colorful tales on how he came to play each course, while thanking those who helped him along the way. On many private courses, he was required to play with a member – and normally this was someone he had never met before – yet these people were gracious-enough to sponsor him after hearing of his quest through a friend-of-a-friend-of-a-friend.
Interestingly, one of Mr. Berle's more useful connections was a man from New York he called "John." John was a member at a few extremely exclusive clubs – ones that he unlocked for Larry to play on. But John wished to remain anonymous in Mr. Berle's book – never wanting fellow members to know he was helping an outsider gain access to these courses. And he never met Mr. Berle either, instead orchestrating Larry's tee-times over the phone.
Mr. Berle played 24 of the top 100 courses with his wife, Annie, including Spyglass, Pebble Beach, and Whistling Straits. He played several with his pal Jeff, who had his pilot's license and flew he and Larry to some of the courses in his 6-seat, prop-plane. And he played only a couple with his close friends – playing many alone or with no-one he knew at all. But he seemed fine with that – he became a connoisseur of golf course architecture (he has grown rather fond of Tom Fazio designs) and learned how to be a very gracious guest (which was something he took great pride in when meeting new golfers willing to host him).
I had the opportunity to speak with Larry recently and asked him what his favorite course was on the top 100 – you know, the one that slows time, brings you to that special place and makes you think "yeah, this is why I play this game." Without hesitation, he named Cypress Point. And in talking to Larry, you realize this accomplishment is something that defines his very character. He lights-up like a kid in a candy store when talking about his adventure. He remembers details most golfers would never remember on a course, and he himself looks back in disbelief that he actually completed such an undertaking.
A Golfer's Dream is a heartening story of personal accomplishment and strong perseverance. As golfers, we've looked at the top 100 lists and dreamt about playing them all – Augusta, Pine Valley, Winged Foot – and then brushed the notion aside, labeling it a pipe dream. Kudos to Mr. Berle for proving us wrong, and kudos to him for sharing this triumph with golfers everywhere.
As for me, there's the matter of one golf course left to play – this one's for you, Larry.
You can purchase "A Golfer's Dream" by Larry Berle
HERE
.