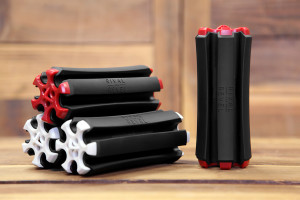 I don't know about anyone else, but I am somewhat of a creature of convenience.  I'm the type who will gladly pay a little bit extra for something if it saves me the time and effort of driving farther or going into a crowded store.  I don't like making more than one trip to accomplish a task. And I hate having to carry anything I don't really need.  This all translates to golf as well.
If I'm headed out to the course and I realize I'm short on balls, I'll pay the extra to just buy the balls at the course rather than make a stop along the way.  If I have to chip onto the green, I make sure to bring every club I need with me (PW, putter, and SW just in case….) in order to keep from having to walk back to the cart or to my bag.  And carrying things I don't need?  I can't tell you the last time I purchased tees.  I mean, why buy tees when every tee box is littered with them?
That whole "carrying things I don't need" thing brings me to a little golf-gadget with which I've had the opportunity to spend a little time.  The good people at Rival and Revel were nice enough to send over their SILO Golf Club Carrier, and I have to say, I'm pretty excited about this little bad boy.  The idea behind the club carrier is simply to leave behind what you don't need.
The SILO holds up to six of your clubs snuggly together along with three tees and a ball marker (included).  Heading to the range?  Do you really need to bring all of your clubs?  Wouldn't six suffice?  You sure don't need to lug your entire bag, do you?  Or maybe you're playing an executive or par-3 course.  Again…what's the point in carrying twice as many clubs as you're going to use?  Once again…convenience.
Now, nothing is perfect and I always like to hear the bad news before the good…so I'll start with just two complaints:  Though the SILO comes with a handy and attractive metal ball marker, the first thing I noticed when I began playing with the club carrier was the ball marker missing.  I found it down at my feet, and attached to it was the magnet supposed to be holding it in place.  Maybe this was held in by glue?  If so, might I recommend a stronger glue.  Or maybe a magnet which is more secure to the carrier, possibly by a screw or something overlapping.
In addition, getting your fingers between the club shafts to reach the ball marker (or the three tees on the opposite end) was a bit of a tight squeeze.  Obviously, you would reach these by having at least one club removed from the SILO, but it was still a little awkward nonetheless.  However, that's the extent of my complaints.
Now let me tell you why this thing is great…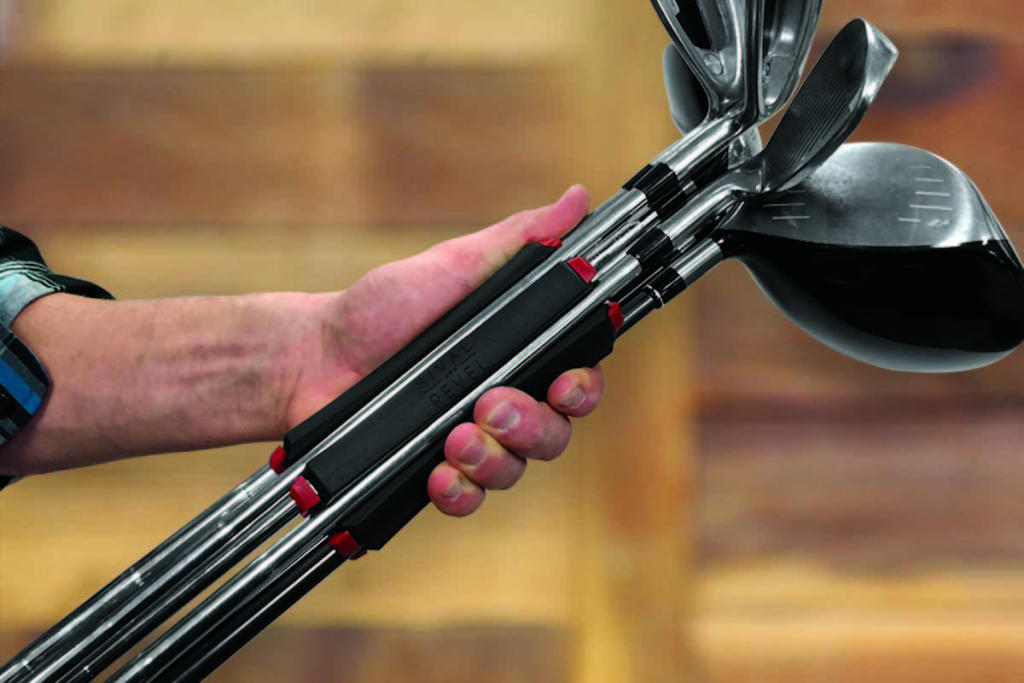 What I like most is the simple fact that it exists at all.  Anytime I head out to the range, I don't have to bring all of my clubs and my bag with me.  I can just select the six I want to work on, and with one hand carry them to the car and range.  Also, many of the rounds I've been playing lately have been nine-hole rounds on a short course.  I find myself not using half the clubs in my bag.  With the SILO, I can carry only the clubs I need, along with the ball marker and a few tees attached.  All I need to do is throw a few balls in my pockets, and I'm ready to go.
A couple of great features about the club carrier are how it uses it's design to create a feeling of light-weight balance in-hand as well as balance when you pull a club from the carrier.  Firstly, when positioned properly on the club shafts, the amazing balance of the SILO and clubs in-hand, makes you forget you are carrying any more than a club or two.  Yes, it truly feels that light.  Also, when pointing the club heads in the right direction, provided there are at least three clubs in the holder, the clubs will stand upright where you leave them, just as a bag would.
Further, the relatively small size of the SILO allows the holder, with several clubs attached, to fit right into your bag!  This is convenient if you are playing an eighteen-hole round.  Land your ball within chipping distance of the green?  As mentioned earlier, if you keep your on- and around-the-green clubs attached to the SILO and placed in your bag, you can carry all of them over to the green at once.
All around, this is a convenient little tool for most of us golfers who like to head to the range on occasion or squeeze in a nine-hole round but are looking to do it quicker and easier than lugging your bag over your shoulder or strapping it to your back.  And seriously, how can you go wrong for only $25?  But before you go and purchase one of your own, as usual, we here at GolfStinks don't keep all the good stuff for ourselves.  Head over to the Golfstinks Facebook page tomorrow to enter a drawing to win a SILO Golf Club Carrier for yourself!  But win one or buy one, you're bound to see how Rival and Revel is making the game a little easier for all of us.