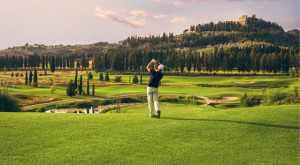 Now that summer is here we can focus on the important stuff – golf and vacation! Whether it's a trip to the shore for a couple days or to the other side of the world, the good news is that there's probably a  course  not that far away. As golf has developed and grown in popularity you would surprised as to where you would find a golf course.
A few months ago I had the opportunity to travel to Italy for a couple weeks and wouldn't you know it, I actually saw a couple golf courses. It's not something I would normally think when in the Florence area. You know, the statue of David, the Duomo, the Tuscan Hills …Golf Club Toscana Il Pelagone. What a great golf holiday!
Now, here's another little something to think about when doing a little golf travel in Italy: The 19th hole. Man, that has got to be some of the best food you will ever come across at a club house. The heck with the hot dog and soda, I'll take the Bistecca Fiorentina (an oversized aged porterhouse) paired with a nice glass of Brunello…fuhgeddaboutit!
That's it, time to save up for another trip. And by the way, to all us hacks out there, you don't have to be good to play good courses, anywhere.
Hit'em long…yell FORE!!!