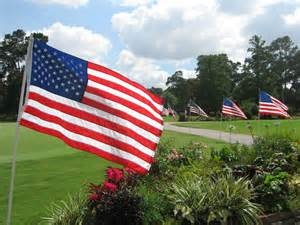 Sometimes we use golf to celebrate something.  A common tradition among us stinky golfers has been for birthdays, well…for those of us whose birthdays fall in golf season anyway.  Your birthday equals a free round of golf courtesy of the other stinky golfers.  But golf can be used for other celebrations as well.  Bachelor parties are pretty common for celebrations involving a round or two of golf as well.  Sometimes it's for recognition – a previous job gave me the opportunity to play a course which I otherwise would have had no chance to get on, just for a "job well done."  With that in mind, maybe using golf to recognize a veteran or current service member on a "Job well done"
With Memorial Day upon us, many people need reminding that this is not in fact National Cookout Day.  This is not a holiday invented by Kingsford or Char-Broil.  What it is, is a day to remember the men and women who paid the ultimate price while serving in the military.  As long as all of us understand that, then the cookouts, the parties and gatherings are all good.
But on this Memorial Day, why not take one of those chances to recognize a veteran or active member of the service?  You would bring your buddy out for a round of golf on his birthday, so why not celebrate Memorial Day with someone to whom this holiday matters or affects.  Sure, Memorial Day celebrates those who have fallen while Veteran's Day recognizes all of the active or inactive military.  But showing your appreciation to a friend or family member who is serving could be a nice gesture which I'm sure would be appreciated.
A round of golf , as mentioned earlier, can be used as a form of recognition.  It's done at the office.  It's done on birthdays.  Why not pass that along to our veterans and service men and women?  After all, these people are sacrificing so much for you and me.  Even something as simple as a round of golf is a nice show of appreciation to people who certainly deserve it.
Swing 'til you're happy!