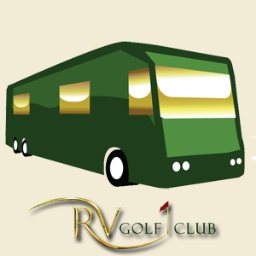 In these tough times of economic hardship and government shutdown, everyone is looking to make an extra buck…and the golf industry is no exception. After all, our industry is dependent on others having money to spend.
Over the past few years, we here at GolfStinks have seen some pretty ingenious ways to help the golf market and prove you don't have to bet on golf to make money in this industry. Well, the RV Golf Club is yet another such way:
"There are 17,000 golf courses around the country, all of which are looking for new, creative ways to increase revenues. They all have parking lots that sit vacant all night. RV Golf Club (RVGC) will introduce those golf courses to a whole new demographic of customer with a simple, yet insightful idea. There are 9,000,000 RV owners in the country. The number of baby boomers is growing daily and a large number of them want to sell everything and travel in an RV. So RVGC is a conduit to direct the RV owners to park overnight at RV friendly golf courses."
Despite not being an RV owner (or Baby Boomer), this idea immediately intrigued me. After all, it is called a recreation vehicle – why can't that recreation include golf? RV owners can park for free at affiliated courses and in addition, receive discounts on tee-times and pro shop merchandise. Think about it – you wake up and you're already at the course with your clubs!
RV'ers pay a $49 annual membership fee, which according to RV Golf Club, will save them thousands of dollars a year in parking. Meanwhile, golf courses fill empty tee times "without investing a dime on advertising!"
The RV Golf Club currently partners with more than 340 golf courses in the US and Canada (including many private country clubs) and that number is growing.
In my opinion, courses have nothing to lose with this – the lots are open at night and you potentially have new customers waiting to tee-off in the morning. While there is no one solution to increasing revenue, you can't argue that every little bit helps. And for those of you who are RV'ers that golf – you've got to admit, this sounds like a pretty sweet deal!
For more info on the RVGC, visit their website: http://rvgolfclub.com/.