So I received my Heartland America catalog in the mail recently. You know, the magazine that sells all the infomercial stuff that sounds like a good idea at 3AM?
It's basically the SkyMall catalog for people on a budget – but not as cool. And while I have never placed an order with Heartland America, it makes things move along a bit quicker while I'm on the porcelain throne.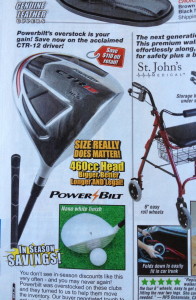 Anyway, as I was flipping through the catalog the other day, I noticed there were a few choice golf items to be had at discount prices! Items from popular name brands like Nike and Adidas Golf you won't find. But you will find…
On page 10, right below the lizard- and eel-skin dress shoes and just to the left of the geriatric walker on wheels (complete with storage basket under the seat), you'll find an amazing deal on a 460cc head driver!
Just $39.99 each and from a respected company like PowerBilt to boot! According to the product description, the company was (incredibly) overstocked on these babies and now they can be yours on the cheap! Sorry – no lefties.
Moving along to Page 39, to the right of the "Gold Digger" metal detector and below the leather belt with concealed weapon gun holster, is another fine gem from PowerBilt: The One Putt belly putter!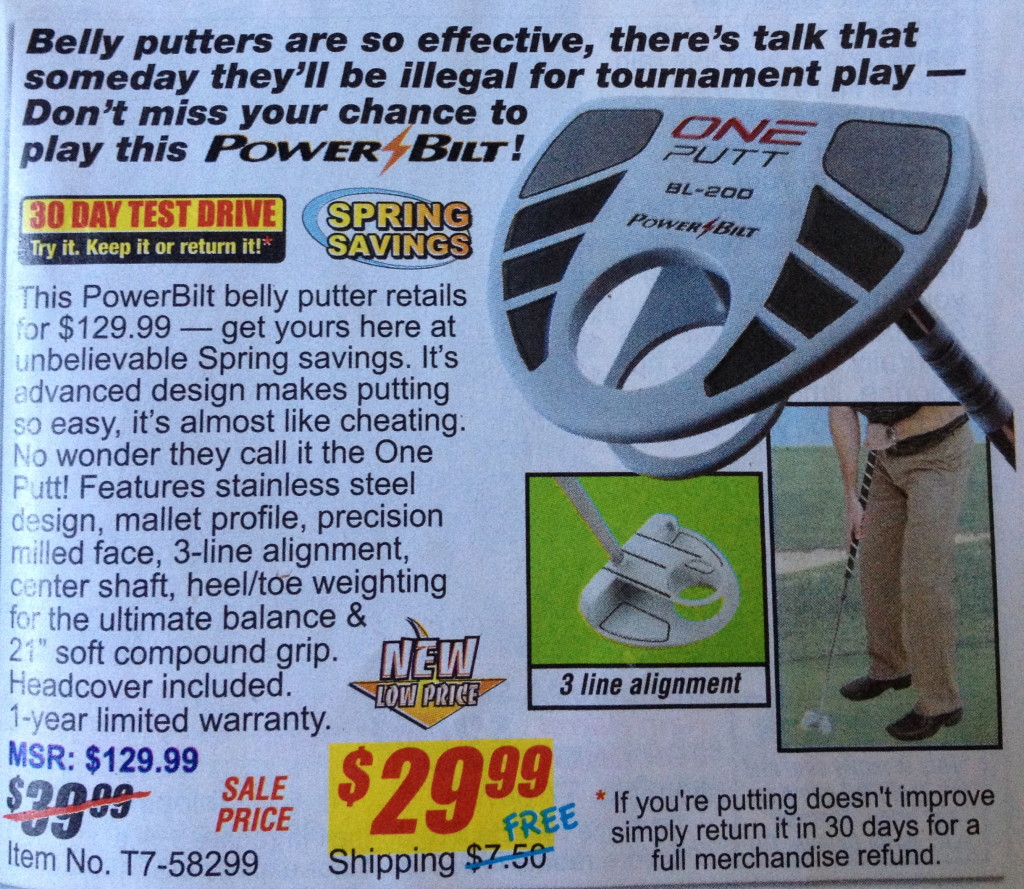 The caption says it all:
Belly putters are so effective, there's talk that someday they'll be illegal for tournament play – Don't miss you chance to play this! ["someday" – I love that!]
Touting "unbelievable savings" (and the unfortunate luck of being a tad tardy) this belly putter (now completely illegal) can be yours for only $29.99! Don't wait – buy now!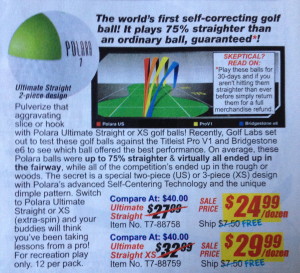 Finally, on page 15 – opposite the page with the 5-in-1 inflatable lounge chair and a few pages before the fanny pack that also "packs heat" is our favorite illegal golf ball – the Polara!
For just $24.99 a dozen, you can now cheat your way to a better score and none of your sucker golf buddies will be the wiser! Say goodbye to that slice, hook and any respectability you might have because you're playing for keeps cheats now!
In all seriousness though, I think I might order the gauge that tells me when the propane in my grill is about to run out (page 11). I really could have used that last Fourth of July! Enjoy the holiday everyone!