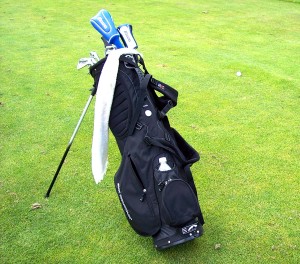 I'm about due for a new set of golf clubs and I've gotta tell you, it's kinda stressing me out. Now I'm not talking about drivers and wedges here. I talking specifically about my irons.
My current set (Mizuno MX-23) ran me about $700 back in 2005. But here's the problem: While I love the way my Mizuno's look and feel, I'm not really sure my game has improved any over my previous set (a $300 set of Spalding Executives circa 1998).
So should I spend more than $700 this time in an effort to improve my game? Or should I spend less and save my hard-earned money for more "realistic" goals? Maybe I should spend the same amount and just take some lessons?
I probably should have purchased new irons by now, but this trepidation over how much I should spend has really held me back. Perhaps I should do what Stinky Golfer Chris did and have a set custom fit for me. Of course, I'm not sure Chris' game has improved that drastically either.
Since my last purchase seven years ago, my life has changed – I have a family now and I don't get out on the course as much as I used to. On the other hand, I don't want to do myself (or my game) a disservice by getting crappy clubs.
So I'm hoping you can help. My scores show that I'm pretty much an average hack golfer. And since the Golf Stinks blog caters to average golfers, I should just ask how much you spent on your current set of irons.
Now if you got them for free, obviously that doesn't count. But everyone else feel free to take the poll below – it might just help me justify what I should spend. Oh – and please be honest – if everyone puts "More than $1,200" I'll know you're all liars!

Loading ...