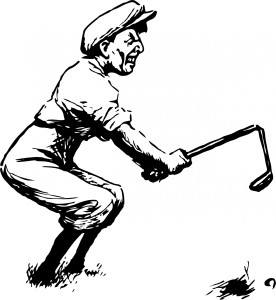 Perhaps one of the greatest feelings I ever got was when I broke my golf club in half. Is that bad?
Some years ago, I was hacking my way through the back 9 of a local course. I had been struggling with my putter throughout most of the round and by the time I teed-off on the 16th, the rest of my game decided to head on over to the 19th-hole for a few beers without me.
Anyway, after planes, trains and automobiles to get to the green, I promptly 5-putted (I swear the freakin' hole was wearing a chastity belt). I ended up taking a 12.
Without even thinking, I immediately snapped my putter in half across my knee. A few seconds later I was rife with regret. But for that fleeting moment while I was actually in the act of breaking the club, I felt invigorated. You know that one moment on the course that keeps you coming back for more? You could be playing wretchedly all round and then you hit that one shot that inspires you to play again the next week? Well, my moment of inspiration to play again came from me breaking my putter across my knee.
Not long after, I was at a PGA Tour event and watched one pro (I forget who now) also break his putter across his knee after putting-out on the 18th (he was smart to do it on the last hole…I had to putt with my 3-wood the rest of the way). Anyway, I remember this pro holding up the broken putter to wild cheers from the gallery. And that's when it hit me – maybe I shouldn't regret what I did?
I haven't broken a club on purpose since, and really, haven't seen anyone else break one either. But I don't think I can say I'll never break one again – when I'm having one of "those" rounds, it may just be the medicine I need to help me get back out there ASAP.
How about you? Have you ever broken a club in anger? Take the poll and let us know.

Loading ...