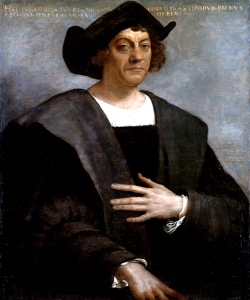 In fourteen-hundred and ninety-two, Columbus sailed the ocean blue. And found this land, land of the free, beloved by you, beloved by me.
Actually, I have no idea if those are the correct words. Everything after "blue" is pretty much a mystery. No one really seems to know the exact words. But that's OK, everyone knows the basic idea and the basis of the story.
But I want to look at things on a much smaller scale. We know, for the most part, what it was that Columbus brought to this land. But in the spirit of the holiday (a day which I do not have off from work by the way), I was interested in finding out who brought golf as we know it to this country. Who is the Christopher Columbus of golf? Well, on the 18-hole scale anyway, it's a man named Charles MacDonald.
First off, I was surprised to find that 18 holes of golf is a relatively new concept in the United States, especially considering its roots, according to some research, date back as far as the mid 1300's. But Charles MacDonald, who was born in Canada and raised in Chicago, is responsible for building the first regulation 18-hole golf course in 1893.
His story, golf-wise, starts in 1872 when at the age of sixteen he was sent to school in Scotland…so you can see where this is going. He took up golf, played as often as he could for two years, then moved back to the United States where he….did not continue to play golf.
By the 1880's, immigrants began bringing the game to the States. So in 1892, McDonald and his associates opened a nine-hole course known as the Chicago Golf Club. One year later, nine more holes were added and, boom!…the first eighteen-hole golf course in the United States was born. The course still exists today and is now know as Downers Grove Golf Course (The exclusive Chicago Golf Club moved to it's current location in 1895).
But bringing 18-hole golf to the United States is not MacDonald's only claim to fame. He is also largely responsible for the formation of the USGA and is a former vice-president of the organization.
Additionally, MacDonald took to golf course design. Looking to bring challenge and variety to golf courses here in the U.S., he took cues from his experiences in Scotland and designed several of the most noteworthy courses in the country. Included among these courses are, the Chicago Golf Club of course, National Golf Links of America, Yale University golf course and The Greenbrier. For his contributions to the golf world, McDonald came to be known as the "Father of American Golf Architecture."
So how about that? Eighteen hole golf courses are only 117 years old in the U.S. I don't know about you, but considering Europeans have consistently been coming to American shores for over 500 years now, I would have guessed the origins of American golf to be much older.
Good thing Charles MacDonald came around when he did. Had he not, our excuse to our spouses for getting out of the house on a Saturday would only cover half the time!
Swing 'til you're happy!