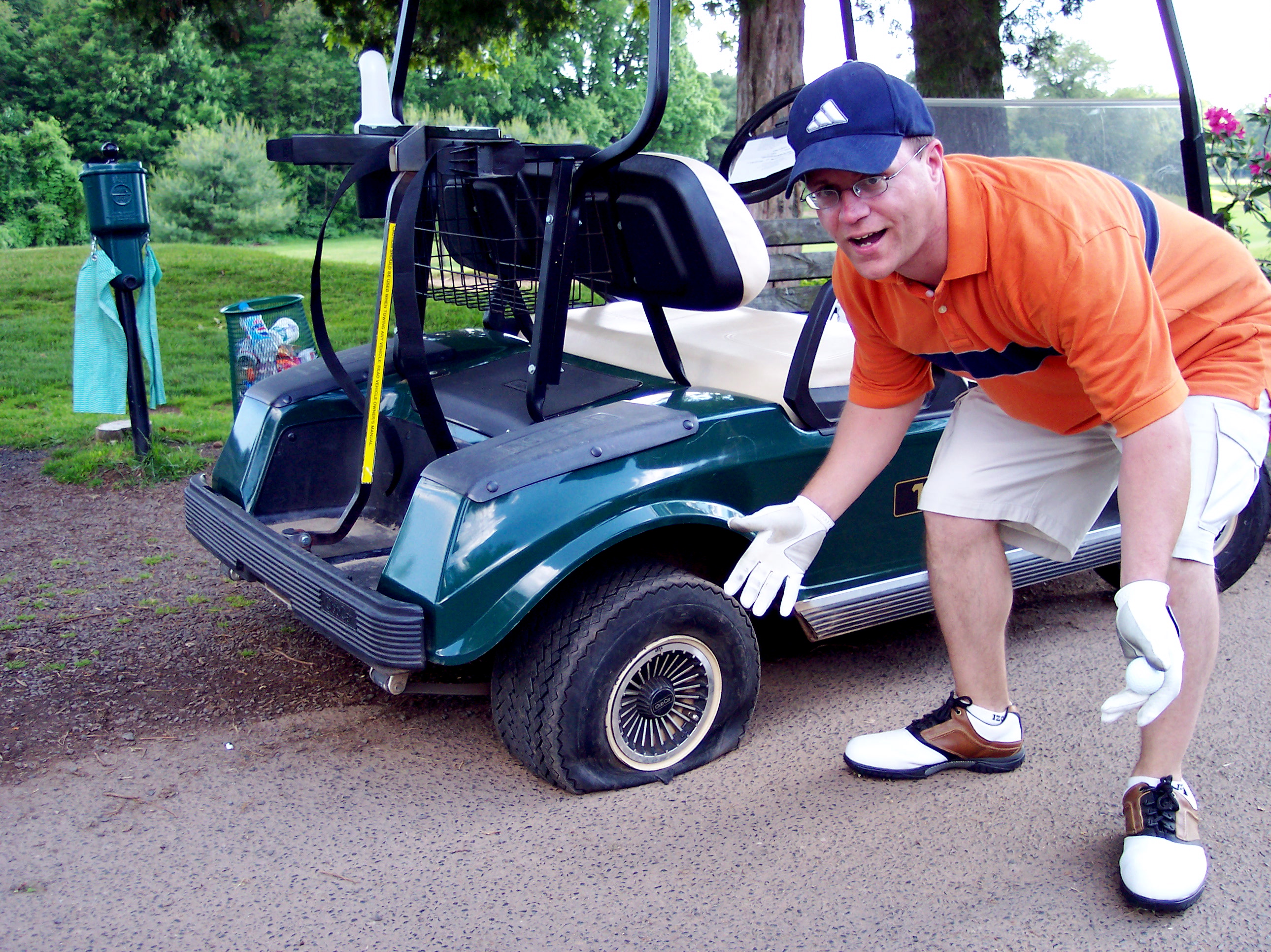 About Stinky Golfer Tom
Tom Treloar is co-founder of GolfStinks, LLC. He's hacked-up a ton of different golf courses over the years and always, for some reason, wears golf gloves on both hands (see photo above).
Quotable…
"I started playing golf at the age of 10 and my dad taught me all the rules; how to swing the club; and everything that goes with golfing. 'Till this day, I'm still learning how to play without wanting to break my all my clubs…LOL."
Q&A with Stinky Golfer Tom…
Years Stinking at Golf: 30

Average # of Rounds per Year: 5
Golf Equipment: Tommy Armour 845 irons.
Golf Balls Lost in an Average 18 Hole Round: 18. Ok, maybe I'm exaggerating a little. Typically a box of 12 though. I usually swipe a few range balls to help compensate.
Favorite Course Played:
Pistol Creek Golf Club in Connecticut – I loved that course. Unfortunately, it went belly-up when economy tanked. Now it's condos.
Dream Foursome:
Me, Chi chi Rodriguez, Eva Mendez and Kevin James
Most Interesting Golf Experience:
Many years ago, I was on the 14th hole at a course that shall remain nameless and I was having my typical bad round. I was so frustrated I decided to hit my drive without using a tee…big mistake. Our cart was parked about 50 feet in front of our elevated tee box, so it sat a good amount lower that we were. My ball duck-hooked directly towards the cart, split the two bags on the back perfectly and smashed (I can vividly remember this as if in slow motion) through the Plexiglas windshield leaving a softball-sized hole in its wake. We finished our round, parked the cart at the clubhouse and high-tailed it out of there!
---
GolfStinks contributors: Stinky Golfers Chris, Greg, Pete & Tom