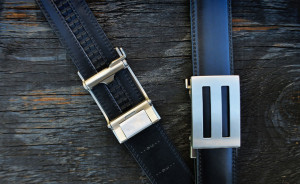 From fashion to athletics something as simple as a belt can spark the competitive spirit. In the eyes of a boxer, a belt defines their career and potentially seats them in the annals of sports history. In the fashion sense, a belt can make or break your ensemble. With that in mind, the reality is that you just have to go for it.
That's the key. Going for it and being a little different. Taking risks and putting yourself outside of your comfort zone. Now, speaking of being different, going for it and referring back to the belt thing, Kore Essentials has quite the innovative accessory with their Trakline belts.
Let me just say it's probably the best belt I've ever worn and thank you Kore Essentials for supplying the belt! In fact, I have taken it off the course and implemented it into daily rotation. The combination of great design and high quality craftsmanship has me sold. The hidden track system sewn into the inside of the belt works flawlessly. Also, it gives about 40 or so 1/4″ increments of sizing in comparison to the handful of holes found on standard belts. Confused? Click on the pic above for a video (after reading the rest of this post of course).
As a bonus, all the belt buckles and belts can easily be swapped with each other. Plus, you can use the undercarriage of the belt buckle to pop the top on your favorite frosty libation. Seriously, I'm not kidding. It even says so on the website. Can I say bonus? Now, head on over to Kore Essentials and treat yourself.
Hit'em long…yell FORE!!!