Every once in a while I like to search the web for interesting or weird golf related stories. It never ceases to amaze me what I'll actually stumble across. Just when I think I have heard it all, another story surfaces that leaves me shaking my head in disbelief. It's not like we associate excitement with golf…or should we?
So, this is for all of you hacks out there that are bored with your local track and are looking for something different. Maybe you need to get away for a bit. A little change of scenery, perhaps a taste of different cultures. You know, a golf vacation. I got the perfect place for you to go and leave everything else behind…including your clothes.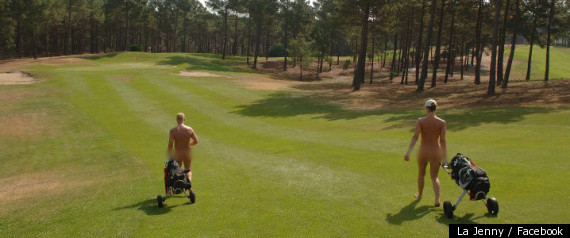 You heard right. At La Jenny Resort in Le Porge, France golfing nude is obligatory, as well as tennis, swimming and…umm…pony riding. Let me tell you, you haven't lived until you've ridden a pony in your birthday suit. The only thing that kind of weirds me out a bit is that they promote this "naturist" resort as family friendly.
I don't know, maybe it's just me but there is something odd about a family playing doubles tennis naked. However, it is France and as we all know the Europeans have a much more liberal stance on this sort of stuff. As the saying goes, when in Rome…or Le Porge.
Hit'em long…yell FORE!!!