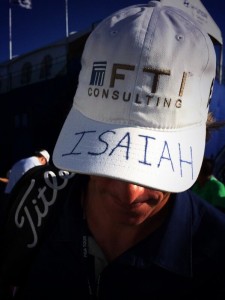 Amidst all the money and notoriety professional sports can bring an individual, it's great to know some haven't let that get in the way of being human. Life has its ups and downs and for Paul Tesori and wife Michelle, those ups and downs came a little too close to each other. As you may or may not know, Paul is 2012 U.S. Open champ Webb Simpson's caddie and good friend, a former tour pro and father to newborn son, Isaiah.
Shortly after Isaiah was born, he was rushed to the ICU because he started having seizures. Unfortunately, this happened right when Paul and Webb were headed to Hawaii for the Tournament of Champions. Naturally, Tesori would not be able to attend and Webb, in a show of support and friendship, considered withdrawing from the tournament.
Instead of withdrawing and at the request of Paul, Webb decided to go out and play for Isaiah. Not only did Simpson draw on Isaiah's fighting spirit for inspiration, Ted Scott, Bubba Watson's caddie and friend to Paul Tesori, jumped in and held down bag duties for Webb during this trying time. As a side note, I'm getting goosebumps and a little emotional writing about this.
Hat's off to the Tesori family, Webb and Ted for handling the situation with dignity and class! In the end, it's all about being surrounded with real people. Forget the money, forget the fame and forget whatever else distracts us from being us, nothing can come close to the feeling of being loved. Little Isaiah should be proud, he's got quite a fan club.
Hit'em long…yell FORE!!!