I've been pondering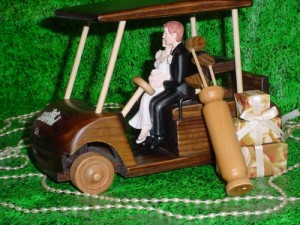 this question since getting engaged (oh yeah, by the way and thank you) a few months ago. I figured with so much stress and pressure with the planning and the actual wedding, it'll be OK to squeeze in a round while on my honeymoon. I deserve it, right? Only problem is that she doesn't golf. You know, the more I'm thinking about it the more it looks like I'll be needing to brush up on my negotiating and convincing skills to pull this off.
Now, where do we actually go for a honeymoon? Do I secretly pull some Jedi mind tricks and subconsciously make her choose a spot conveniently near a golf course? Although, most honeymoon destinations are already conveniently located near a golf course…hey, how convenient!! That's good because pulling that Jedi crap is mentally and physically draining.
Now, just when I thought I had it figured out, she drops the bomb – Let's go to Europe! WTF, Europe! Looks like it's time to regroup and work a new strategy. Let's see, I have family in Europe and after doing a quick search, I didn't realize there were so many golf courses in Switzerland. Ok, this could be good with a little planning and compromising…this just might work.
Looking good, looking good! Wait a minute, I don't speak German. My family is in Italy! Time to break out the Rosetta Stone to sprechen sie deutsch and dust off my Golf knüppelt?
Hit'em long…yell FORE!!!