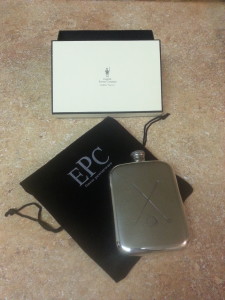 Some things just go together.  Peanut butter & jelly.  Bread & butter.  Burgers & fries.  Raiders fans & felonies.  You just can't have one without the other.  But if you're not a golfer, you may not realize that golf and alcohol can fit right in with those examples.  Whether it's the relaxed atmosphere of the game which makes taking a few swigs seem second nature, or your game itself which drives you to drink, there's something about the sport which ties the two together.  But just as much as what you choose to drink, it's what you're drinking from.
Take a beer for instance.  Something about drinking a beer from a can sends a certain message.  Step up to a bottle seems to be a bit more grown-up.  Where as having a beer on draft, especially in one of those glasses crafted specifically to accentuate the flavor of certain brews, makes you look like the ultimate brew snob.  But taking a swig of your spirit of choice from a finely-crafted hip flask?  Now that can tell your fellow golfers you take your drinks seriously.
Enter our friends over at buyahipflask.com.  Personally, I have my own hip flask.  I received one, custom engraved, as a gift several years ago from a friend who knew what I liked to drink.  I thought mine was nice, until I got a look at one sent to us from our buddies across the pond.  One of the flasks from their golf collection simply puts mine to shame.  While mine did come in a nice box, the presentation of the one we here at GolfStinks received was quite luxurious.  Taking off the cardboard sleeve reveals a quality, textured cardboard presentation box featuring the logo of the English Pewter Company.  Pop the top on that, and it contains an attractive, black velvet bag with an EPC Finest Pewterware printed across the front.  Once you dig into that bag, you'll pull out a foam-wrapped, shiny piece of libation-holding beauty.
But it's not just the look.  It's the feel of it, the weight.  You know this is no shiny-painted piece of crappy metal.  This is good quality, lead-free pewter.  The leak-proof top and funnel are nice touches, although I would have preferred the funnel to be something other than plastic.  But this doesn't alter my thoughts toward the flask itself.  Along with the look and the feel, the engraving on the front of the flask is highly detailed, to the point where features of the club such as the grips, sections of the shaft and the club face are all there.  Even the shadow on the engraved ball looks good.  Ladies and gentlemen, this is no piece of cheap tin.
And as always, your friends here at GolfStinks do not keep everything for themselves.  No, we share as usual.  Do you want a chance to get your golf glove wrapped around one of these flasks yourself?  Then simply head on over to the Golfstinks Facebook page and give this post a like.  You'll be entered to win this very flask.  And while you're there, don't be afraid to share with us your favorite pre-, during and post-round libations.  Don't drink alcohol during golf, or at all for that matter?  Then share that with us as well.
Swing 'til you're happy!